Homes for Sale in Denton, TX
Information about Denton Texas
While one of the fastest growing metropolitan areas in the country, Denton calls itself the creative and intellectual capital of North Texas – the city's competitive advantage rests primarily on its academic roots: the University of North Texas (UNT) and Texas Woman's University. The University of North Texas is the largest university in the Metroplex. And, although Texas Woman's University has welcomed male students for years, it is the nation's largest university primarily for women.
Denton is strategically positioned within the Dallas/Fort Worth Metroplex, where the eastern and western segments of I-35 join 40 miles north of Fort Worth and Dallas. Thanks to the I-35 corridor, Denton offers nonstop access to either Canada or Mexico. Denton maintains a municipal airport, which is a controlled field. Alliance Airport and DFW International Airport are in close proximity making Denton able to benefit all types of businesses, from national to international.
Government also has a significant presence here with the FEMA Headquarters and the Denton State School. Major employers include heavyweights such as Sally Beauty Company, Victor Equipment, Peterbilt Motors Headquarters and United Copper Industries. Denton Community Hospital and Denton Regional Medical Center provide all levels of health care services; the newest healthcare facility here is Presbyterian Hospital of Denton.
The Golden Triangle Mall and Denton Crossing, a 52-acre retail power center in southern Denton, anchor Denton's consumer trade area and include more than 30 retail establishments and restaurants. Denton is especially proud of its downtown square. The historic courthouse is often the backdrop for city festivals such as the Arts Antiques and Autos Extravaganza, Dog Days of Summer, and the Holiday Lighting Festival.
A waterpark on N. Loop 288 in northeast Denton features four giant water slides, a 600-foot tubing river, children's play pool, and outdoor amphitheater. For racecar lovers, almost one-half of NASCAR racing enthusiasts visiting the Texas Motor Speedway pass through Denton. The speedway is next to Alliance Airport, and offers the experience of both dual-track NASCAR and Indy car racing.
Denton ISD has been named a Recognized district by the Texas Education Association, featuring such programs as gifted and talented, fine arts, deaf education, honors and vocational courses.
Denton TX Real Estate
Below is a live-data chart for median sales prices in Denton, TX from the official Multiple Listing Service (NTREIS MLS) that Texas Realtors use and update daily. The data is broken down by quarter and dates back from 10 years ago.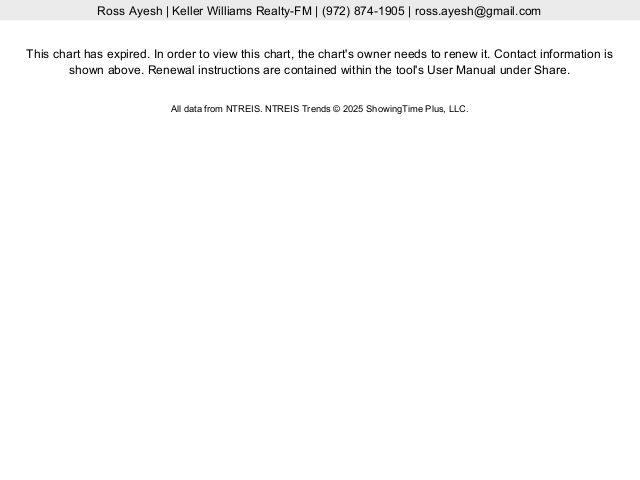 Are you looking for a detailed real estate market activity for Denton, Texas? Just visit the Denton TX Real Estate Market Report.
If you like what you see, you can sign up for an account to define an unlimited number of custom searches and choose to receive email alerts automatically whenever a property is listed that meets the selection criteria of any of the searches you have defined.
Whenever you find a property you want to see, you can set it to "Favorite" status and even request a showing all through the listing page! Enjoy and let me know how I can be a resource to you on your next home purchase.