Homes for Sale in Frisco, TX
Information about Frisco Texas
Frisco has experienced tremendous growth, both in housing and commercial development and it is well known for its top-rated school district, Frisco ISD. Frisco residents note that the small school model (9 high schools for the surrounding neighborhoods, rather than 1 or 2 for the whole city, like in most areas) allows for a constant stream of leadership possibilities and extracurricular involvement. Frisco as a whole was largely immune to the great recession as it continued growing rapidly with the addition of The Star (Dallas Cowboys' World HQ) and the National Soccer Hall of Fame. The $5 Billion Dollar Mile has definitely put Frisco on the map and everyone is hoping for Amazon to put its 2nd headquarters in Frisco.
The land where Frisco lies was originally owned by the Frisco Railroad. In 1902, they divided this land into lots, selling it to new settlers through an auction. The auction was advertised along the rail lines as far north as Chicago, bringing people from all over. The land was of interest due to its access to the railroad, as well as the rich soil, perfect for farming.
Nowadays, farming in Frisco has become less apparent. The city continues to grow at an ever increasing speed, being named as the 2nd fastest growing city in the nation (according to Zippia.com). With a population surpassing 150,000 in 2016, the city projects that there will be an additional 50,000+ residents relocating here within the next 5 years!
Frisco's major employers include the Frisco Independent School District, T-Mobile USA, Amerisource Bergen Specialty Group, and The City of Frisco. The Dallas Cowboy's moved their corporate headquarters into Frisco, as of 2016. The Dallas Stars NHL team is headquartered here as well.
There are 43 city parks in Frisco, along with multiple hiking and biking trails, allowing for plenty of outdoor recreation options for its residents. The city has put together a wonderful park guide and trail map.
Frisco public schools are among the best in the DFW metroplex ... most school age children who reside in Frisco are eligible to attend Frisco Independent School District schools ... all or part of four communities in western Frisco are served by the Lewisville Independent School District or Little Elm Independent School District ... three neighborhoods in northeast Frisco are served by Prosper Independent School District.
Frisco TX Real Estate
Below is a live-data chart for median sales prices in Frisco, TX from the official Multiple Listing Service (NTREIS MLS) that Texas Realtors use and update daily. The data is broken down by quarter and dates back from 10 years ago.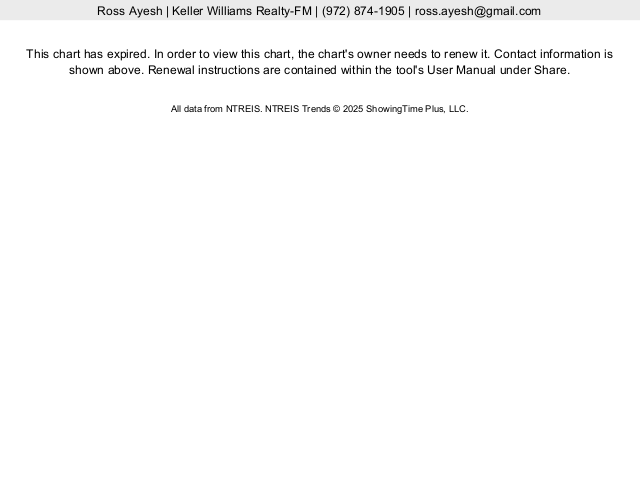 Are you looking for a detailed real estate market activity for Frisco, Texas? Just visit the Frisco TX Real Estate Market Report.
If you like what you see, you can sign up for an account to define an unlimited number of custom searches and choose to receive email alerts automatically whenever a property is listed that meets the selection criteria of any of the searches you have defined.
Whenever you find a property you want to see, you can set it to "Favorite" status and even request a showing all through the listing page! Enjoy and let me know how I can be a resource to you on your next home purchase.